As we kick off 2017, there's one thing you need to know: when it comes to vehicle armor, we've got you covered with the most complete patrol car protection in the industry. And we didn't stop there…
Our newest ballistic products are making their debut at SHOT Show® in Las Vegas, January 17 – 20, 2017, and we couldn't be more proud of our lineup:
CLEARLY SUPERIOR WINDOW ARMOR
Enlight™ Window Armor is a drop-in, tool-free vehicle armor panel that provides NIJ Level IIIA defense while allowing for civilian interaction and engagement. The revolutionary panel does not interfere with door functionality or require removal of the existing window, and no additional hardware is needed. Enlight delivers multi-round ballistic protection and is available for driver and passenger-side Ford Police Interceptor Utility windows. Window armor for additional vehicle makes and models is available upon request.
ELEVATED THREAT BALLISTIC DOOR PANELS
Avail™ Ballistic Door Panels are designed to pair with Enlight to create a vehicle armor package that offers the security of full-door, Level IIIA coverage. The concealed and weatherproof panels yield multi-round and special threat protection for driver and passenger side doors. Featuring the fastest installation in the industry, Avail's semi-rigid, ¼-inch thin panel optimizes the coverage area for each vehicle make and model. New in 2017: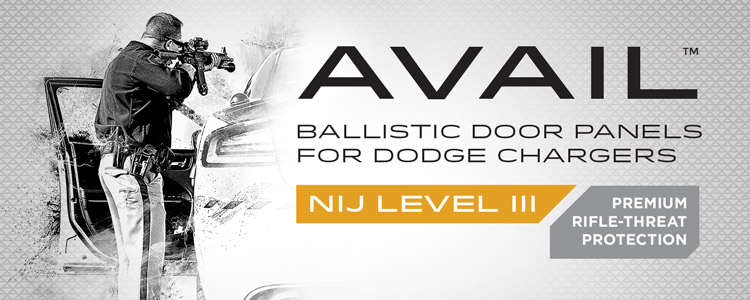 UPGRADED MODULAR MAGNETIC PLATE SYSTEM
The enhanced Truth SNAP plate system is better than ever, providing elevated handgun, rifle, stab and special threat protection in an ultra lightweight package for extended, all-day use. Armor up or down with Angel Armor's exclusive magnetic plates that snap together to provide tiered protection as your mission requires. Pair Truth SNAP plates with our RISE soft body armor system for the most comfortable, concealed ballistic protection on the market.
If you're headed to Las Vegas for the 2017 SHOW Show, January 17 – 20, check us out at the following locations:
SHOT Show Booth 7109, Level 1 Law Enforcement
SHOT Show New Product Center
Arriving early for Industry Day at the Range at Boulder Rifle & Pistol Club in Boulder City, Nevada? Visit us at Booth NS-38 on January 16th to test out our newest products. We're all fired up to show you what we've got!
Guarding your life is our life's work —
Angel Armor